For the past couple years I've been catching up on The Best Show, formerly of WFMU, now a podcast, the creation of Tom Scharpling and Jon Wurster. It takes a while to really warm up to it, but I think it's great. Last week's show was the first time I listened to it live, believe it or not, and I had fun pitching in on the show's trending topic via Twitter, which was "The Top 100 Fictional Characters Of All Time," a subject I've spent some time thinking about.
That list got solidified over the course of the show's live three-hour broadcast, and here it is. The final hundred is a mixture of legitimately amazing stuff and insanely specific left-field choices, and as far as I can tell there's only one of my suggestions on there. It may not even have come from me! There were some real smart people and celebrities playing along.
But these are very obviously my choices. To anyone who knows me in life or in social media, these are most of my pop-cult obsessions right here. A good amount of these characters are returnees from the list of my top ten coolest characters in popular culture from 2012. A lot of them are things I just like to talk about a lot. I think I'm 100% serious here. But I'm not 100% sure about that. Either way, I just had too much dumb fun doing this to fail to share it on my own site, so here it is, in no apparent order.
Tuco Benedicto Pacífico Juan María Ramírez.
The Good, the Bad and the Ugly (1966)
Peter.
Dawn Of The Dead (1978)
Godzilla.
John Shaft.
Jill.
Once Upon a Time in the West (1968)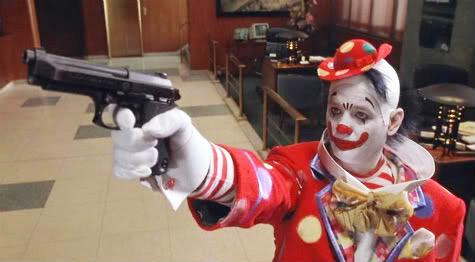 Grimm.
Quick Change (1990)
Dr. Zaius.
Parker.
Coffy.
Stanley Roper & Helen Roper.
Pearl from 227.
Unfrozen Caveman Lawyer.
Amazing Larry.
Pee-Wee's Big Adventure (1985)
Eddie Murphy in "White Like Me."
Harry Fishbine & Jennifer.
Mother, Jugs & Speed (1976)
Rosalie Aprile.
The Sopranos (1999-2007)
The Shogun Of Harlem.
Berry Gordy's The Last Dragon (1985)
Egg Shen.
Big Trouble In Little China (1986)
Inga.
Phenomena (1985)
Landlady.
Kung Fu Hustle (2004)
Jimmy Serrano & sweater.
Midnight Run (1987)
Marvin Dorfler.
Midnight Run (1987)
Chino.
Out Of Sight (1998)
Mr. Eddy/ Dick Laurent.
Lost Highway (1997)
John Milius.
Jesus.
The monster from the cover of REM's album Monster.
Chang.
Only God Forgives (2013)
Morgan.
George A. Romero's Knightriders (1981)
Matt Cordell.
Maniac Cop (1988), Maniac Cop 2 (1990), Maniac Cop III: Badge Of Silence (1993)
Dr. Octagon.
The "I love your mother's cookies" kid from The Boy Next Door trailer.
Morris Day & Jerome.
Purple Rain (1984)
Cheyenne.
Once Upon a Time in the West (1968)
King Kong.
Bob from Bob's Discount Furniture.
Walter Smith.
Luck (2011)
Chandler Jarrell.
The Golden Child (1986)
Neil McCauley.
Heat (1995)
Batman.
The Owl.
Master Blaster.
Mad Max Beyond Thunderdome (1985)
Mac.
Predator (1987)
Lone Wolf & Cub.
Skeleton with British accent.
Army Of Darkness (1993)
The Mouse.
Babes in Toyland (1934)
As always, hit me up below, or on Twitter:  @jonnyabomb